Macworld Expo R.I.P.
This past week was supposed to be about a great event for the Macintosh community: the 25th annual Macworld Expo in San Francisco. An event where I started exhibiting my Macintosh emulation products at in 1998, and which I was excited to sign up for again last spring when I reserved my booth to promote free and open source emulation software. Macworld 2009 should have been all sorts of things. For more than 6 months the rumors about "Snow Leopard" (Mac OS X 10.6) have circulated that it would launch at Macworld. The popularity of the iPhone and the Atom processor hinted at some sort of larger touch screen tablet device. The recent release of the Intel Core i7 processor hinted at a desktop refresh of the iMac and Mac Pro product lines with that processor, much as has been done in years past. I myself was preparing an old Mac G5 to bring to Macworld to demo various emulation software running both on Mac OS X and on Fedora Linux. The idea of the 25th show, a quarter century of Mac, screamed of nostalgia and bringing in some legacy computers to contrast all the cool new hardware and the new Mac OS X Apple should have been announcing.
But Macworld 2009 went terribly wrong, and this time I don't blame the crooked banks or the poor economy. Just a year or two ago Apple was very aggressively eating into the PC notebook market share, selling not only good Windows and Mac OS X compatible notebooks and desktop PCs, but actually pricing them at a point very competitive to Dell or HP. Unfortunately in the months leading up to Macworld, Apple reverted to its old ways of merely marketing over-priced product to elitist jerks (think: Macbook Air). They've been that for much of the past 25 years, yes, but around 2006 Apple actually did good to this world at a time when Microsoft and other PC makers were mired in muck. Apple became a maker of great PCs, not just Mac OS X machines but actual great Windows machines. In 2006 they were cost competitive, they beat Dell to punch not only at launching 64-bit dual-core models but at even beating them in price. In my past blog postings from 2006 I recommended the Mac Pro as a terrific alternative to Dell workstations for running Windows Vista. In 2007 the pre-installation of Leopard and the availability of VMware Fusion made buying any Mac a no-brainer. And for two years until I recently spilled coffee on it and killed it, my black Macbook was my primary notebook computer which I carried everywhere with me.
But once the economy went south, Apple did not lower prices. I purchased the Gateway FX notebook in October for about $1200, less than half of a comparably equipped Macbook Pro. Around the same time Apple launched new models of notebooks without much regard to affordability. Steve Jobs didn't impress when he made statements along the lines of Apple not knowing how to make a good 500 dollar notebook and that they don't make computers for people who fly economy class. Ouch! On December 16th Apple and IDG announced that Steve would no longer keynote, due to "health issues", and that Apple would no longer participate in Macworld. Double ouch! If Steve was suddenly too sick to keynote then carry on without, much as Microsoft did decades ago when co-founder Paul Allen developed cancer and left the company. What you do not do is use the CEO's illness as an excuse to pull out of the very show that exists to promote Apple and Apple's products. Where was Mac OS X 10.6? Where was the tablet? Where was a lower priced Macbook? Where was the Core i7 based Mac Pro? Apple simply pulled the plug on any real new hardware.
I would have liked to have seen at least a beta release of Mac OS X 10.6 to show the world what all that investment into LLVM is bringing, as well as the rumored built-in BluRay support. Or to see a cut in the price of Macs to show people you feel their pain in this economy. Or if they'd just postponed Macworld to the springtime. Instead, they screwed over the thousands of people that had booked flights and hotel rooms to come to Macworld, and the hundreds of exhibitors whose non-refundable deadlines had already passed. By December 16th it was too late for anyone to get their money back on anything, so one has to wonder when IDG and Apple first got together to discuss this and if they planned to wait as long as they did to make the announcement. I was still being hit up for over-priced hotel reservations a few days before the announcement, and yet my hotel room on January 5 a couple of blocks from Moscone Center was not the usual $300, or even $200, it cost $70. The highest day of room rate I found was $119, a sign of how poorly booked the Macworld hotels were.
Die-hard Mac fanatics abandoned Macworld just as Steve and Apple did. Macworld 2009 was not a celebration, it was a funeral. I walked in to Moscone Center last Tuesday morning around 8am. Normally the morning of the opening of Macworld the Moscone Center is buzzing with activity. Die-hard Mac fans are by that time already lining up around the block. Exhibitors are busy bringing in their booth equipment. Scantily clad booth babes are trying to learn to walk on uncomfortable shoes. I remember at the 2001 show having to push my way through a sea of people just to get in to the building to set up my booth. And yet last Tuesday morning as I feared... nothing. No crowds flocking to Macworld. These are photos I took at Moscone Center between about 9am and 1pm on Tuesday January 6th. This one here, 9am, an hour before the keynote, where there should be mass people in line to register and pick up their badges. After I popped up again at around 10:30am and adjust the white balance, hardly any difference, almost nobody was there in line!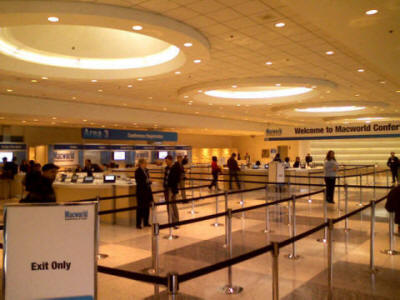 9am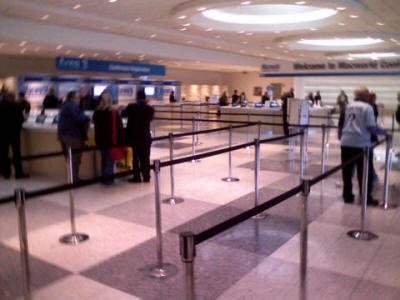 10:30am
Heading back downstairs to prepare to stand at my booth as the doors open, the crowd can be counted in the dozens at best...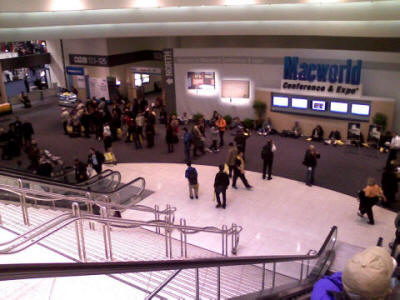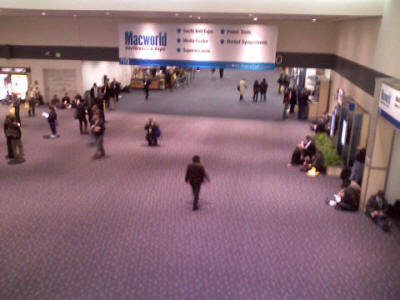 10:30am
Despite the economy I think if Apple had continued supporting Macworld and not dissed on it two weeks before the show more people would have shown up. Macworld is dead. The mere thought of a 2010 Macworld Expo is ludicrous yet IDG is already promoting a January 2010 show on the http://www.macworldexpo.com web site, calling it a "new era", featuring a link to a "2010 Suggestion Box", to go along with this sign that was at the bottom of the escalator...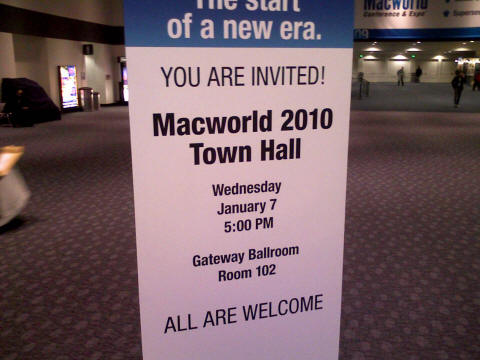 Yes, you too can save Macworld for as long as you keep giving money to IDG. Sheesh! Let it die.
Emulators.com's Last Stand at Macworld
My own reason for exhibiting at Macworld this year was to promote open source emulation software like Bochs 2.3.7 and my recently open sourced Gemulator 9. Due to my schedule I was only able to attend on Tuesday, and seeing the terribly low turnout I skipped even setting up demo machines. For the few people that cared to swing by the booth, I demoed everything on my Gateway FX laptop. Apparently seeing me holding a PC at a Mac show was funny to some people, but I was just happy to be part of what could possibly be the last ever Macworld Expo.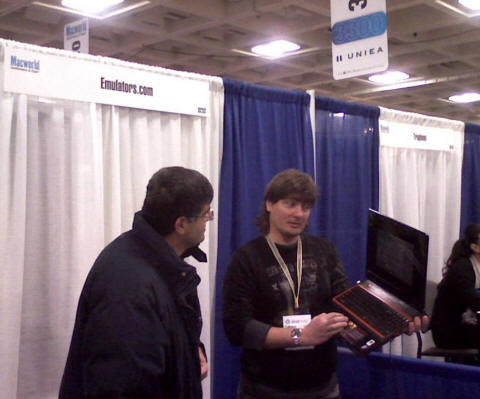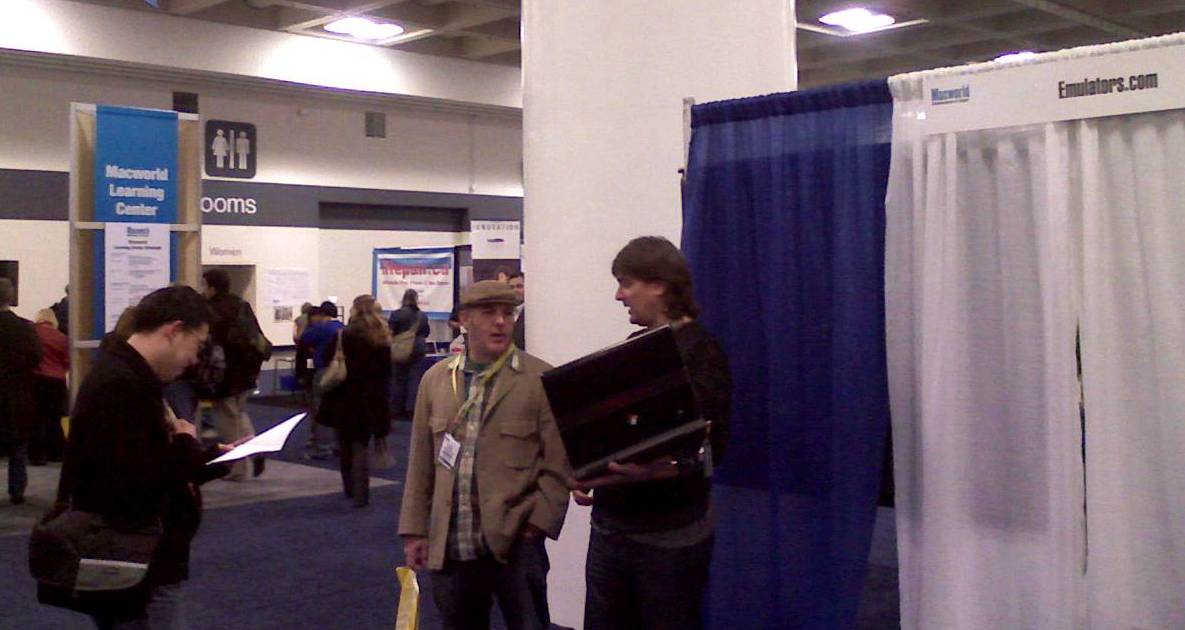 Sun VirtualBox 2.1 - Almost Perfect Virtualization
Thankfully, I was hardly alone preaching free open source emulation. A much better funded company (thanks to that 2 billion dollar payment from Microsoft!) was just a few feet down the aisle from me promoting the same message, that company being Sun Microsystems. When you think Apple and Macintosh, you probably don't associate Sun except maybe for Java running in the Safari browser. Sun was there promoting something I told you about last Leap Day in Part 16 - the latest 2.1.0 release of their recently acquired VirtualBox product for running Windows and Linux virtual machines on PCs and Macs.
VirtualBox is based on QEMU and shares some common code with Bochs as well. Much as I demo Bochs running Windows virtual machines on Mac, Sun was demoing several machines, even showing the latest Windows 7 beta release running on a Mac. All completely free, using open source software. And I love this part that you see in this picture. Their poster gave a big slap in the face of VMware and Parallels, whose booths were also not too far away.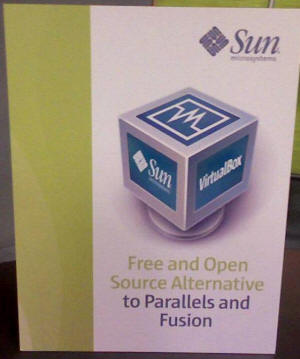 If you did not happen to be at Macworld or pick up Sun's free CD-ROM of the VirtualBox 2.1.0 release, fear not, simply go to http://www.virtualbox.org/ and download it for 32-bit Windows, 64-bit Windows, Mac OS X, or for Linux. VirtualBox 2.1.0 is not only light years of where Bochs is, but from playing around with it, is also quite well ahead of Microsoft's Virtual PC 2007, Virtual Server 2005, and gives products like Hyper-V and VMware Fusion pretty good competition. No wonder Sun blatantly puts up signs to get you to think twice about spending money on VMware Fusion or Parallels 4.0, their product lives up to the hype.
For one thing, VirtualBox supports both 32-bit and 64-bit guest virtual machines, something that Microsoft's free Virtual PC and Virtual Server do not. Sun 1, Microsoft 0.
For another, VirtualBox retains the QEMU binary translation mode in addition to supporting hardware virtualization, thus allowing it to run on older PC hardware and even host 64-bit virtual machines on 32-bit operating systems. Sun 2, Microsoft 0.
Compared to that mess called Hyper-V, VirtualBox runs just fine on Windows XP or Vista, and is able to load legacy disk image files from VMware or Virtual PC. Sun 3, Microsoft 0.
Also from the measurements I've gathered and relating to my past postings about the huge latencies that Virtual PC and Hyper-V add to context switches and system calls, VirtualBox has significantly lower overhead. Translation: faster virtual machines. Sun 4, Microsoft 0.
Sun has good reason to be cocky at a Mac show, because unlike Parallels and VMware which force you to buy individual Mac OS X and Windows releases of their virtual machine products, VirtualBox is free on Windows, free on Mac OS X, free on Linux. A question I posed to representatives at both the VMware and Parallels booths is the scenario as I have here at home of dual booting between Mac OS X and Windows using Boot Camp, but then wishing to host shared virtual machines from either Mac OS X or Windows. There is no "single machine license" option to allow me to pay VMware or Parallels for one product that I can use across both sides of Boot Camp. To me that just doesn't seem fair, as there is nothing wrong with making use of both Boot Camp and then a hypervisor on top of that.
I have installed VirtualBox on a number of my Mac and PC systems this weekend and can say it lives up to the hype. VirtualBox 2.1.0 is not a grand slam home run quite yet, it lacks multi-processor guest support from what I can tell, and it does not yet implement my holy grail wish list of supporting cross-vendor virtual machine migration, i.e. the Intel-to-AMD-and-back virtual machine migration recently demoed by Red Hat and AMD.
Still, I'm blown away by this latest release of VirtualBox, and as good a product as VMware Fusion is, I see little incentive now to actually purchase it or even use it instead of VirtualBox. And that's the free and open source message I'd hoped would get spread at Macworld.
In fairness, the Parallels folks did hand me a demo CD of their latest Parallels 4.0 release which I will install and test out in the next few weeks.
Go... Snow Leopard! Windows 7?
In light of Apple's complete meltdown over Macworld, Microsoft wasted no time stealing attention away from what should have been the week of Snow Leopard. In addition to handing out free beta DVDs of Windows 7, just a couple of days ago Microsoft posted both the 32-bit and 64-bit beta releases of Windows 7 to their web site, free for the download here: http://www.microsoft.com/windows/windows-7/
As far as I can tell, no catch other than the usual 180 day beta time bomb. What you get is a fully working version of Windows 7 Ultimate Edition, which is effectively Windows Vista Ultimate Edition - The Apology (if you don't get the joke, think of Windows XP / Vista / Win7 as Star Trek IV / V / VI). The download page will give you a fresh 25-digit Windows activation code. As I noticed by accident, if you refresh your browser the page will give you a different code. Press refresh again, another code. And so on. <grin>
I have installed Windows 7 on my Gateway FX notebook under VirtualBox as well as natively on my quad-core AMD Phenom machine. In both cases, looking good. While the visual and functional differences between Vista and Windows 7 are not that stunning in general, one thing I already like better about Windows 7, the Disk Defragmenter is once again more descriptive as it once was in XP and earlier. And for the first time, multiple hard disk volumes can be defragmented simultaneously.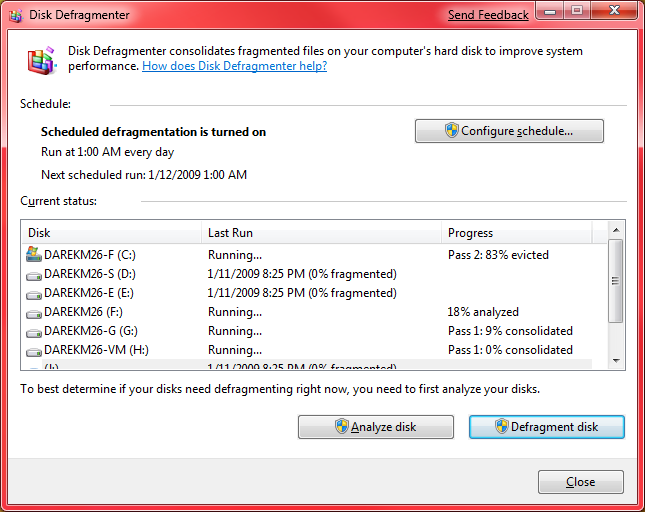 I am now installing Windows 7 natively to the Boot Camp partition of my Mac Pro, a machine that I had recently upgraded to 10 gigabytes in anticipation of loading Snow Leopard onto it after Macworld, oops!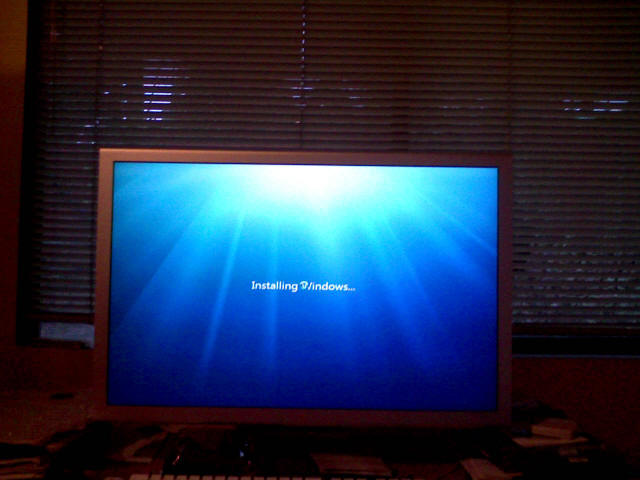 Microsoft's timing is also good as far as taking away publicity from other recent operating system releases, as recent weeks saw the release of Fedora 10 Linux (http://fedoraproject.org/) and OpenSUSE 11.1 Linux (http://software.opensuse.org/), both of which I have installed recently and am trying out. Installing OpenSUSE 11.1 natively to the Gateway for example correctly installed the network and sounds driver and even the support for the brightness control keys, while Vista does not support the Gateway directly out of the box without external Gateway drivers.
Atom and BluRay - Ixnay
One huge disappointment about the Windows 7 Beta so far is that it does not appear to have the native BluRay support, as is rumored for the next Service Pack 2 release of Vista. One is still required to use a third part BluRay player like Cyberlink PowerDVD which do not integrate nicely with Windows Media Center or Media Player or play nicely with Atom boards. And my backup hope for BluRay was at least Snow Leopard, doh.